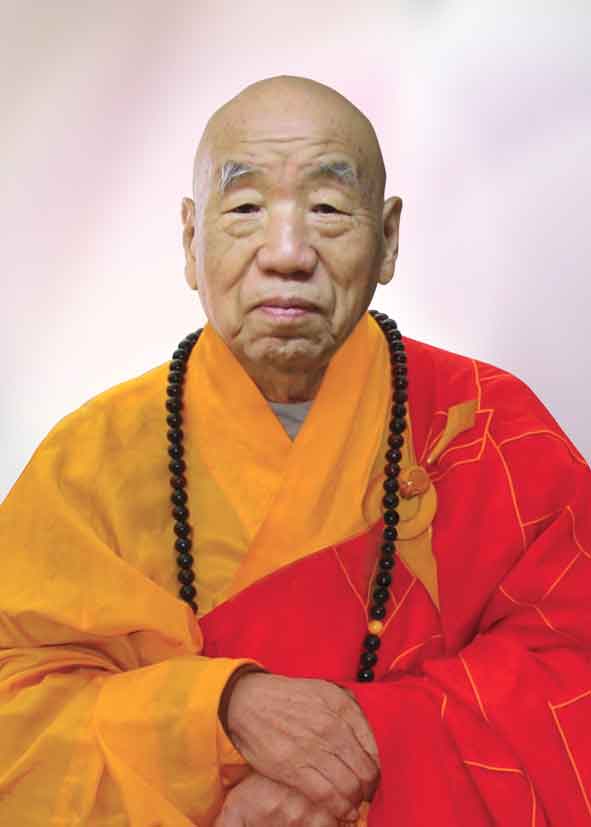 Source: Buddhist Museum in Canada / Chamshan Temple
Venerable Master Lok To (樂渡長老)
1923 — 2011
Venerable Master Lok To's origin is the Xiao County in Anhui Province. He was born in 1923. He became a novice at the age of ten and his tonsuring Master was Venerable Master Xue Feng of the Long Quan Temple. At the age of sixteen, he was ordained at Xinghua Temple in Mount Yunlong of Xuzhou. At eighteen, he arrived at Cham Shan Temple in Qingdao and began his Tiantai education at the Cham Shan Temple School of Buddhism, under the guidance of 65-years-old Elder Master Tan Xu.
In 1947, Venerable Master Lok To came to Hong Kong to further his studies. He encountered the Dao Feng Shan Religious Studies Research Institute and discovered their intention of weakening the faith in the Buddhist Saṅgha community. He then published a pamphlet to expose this. In 1948, Venerable Master Tan Xu arrived in Hong Kong and founded the South China (Huanan) School of Buddhism, where Master Lok To furthered his studies at the age of 26. He was determined to learn English then, planting his seed for translation work in years to come. This marked the milestone where Cham Shan's lineage was established in Hong Kong.
In 1962, Master Lok To decided to go to the U.S.A. and landed in San Francisco. He was the third member of the Chinese Saṅgha community who pioneered in propagating Buddhist Dharma in the United States. The next year, Elder Master Tan Xu passed away. Master Lok To then returned to Hong Kong for the funeral service and further prepared to establish a monastery in the U.S.A.
Master Lok To finally set foot in New York on March 15, 1964. He was warmly received by many devotees like Upasika Jiang Huang Neng Jin and Upasaka Shen Jia Zhen. In October 1964, The Buddhist Association of The United States (BAUS) was established with Master Lok To as the Chairman. Two years later, he founded the Da Jue Temple of Enlightenment, and became the first Abbot of the temple.
During the World Expo held in Montreal in 1967, Master Lok To invited Master Sing Hung and Master Shing Cheung to immigrate to Canada. In 1968, with their effort and help from devotees, The Buddhist Association of Canada (BAC) was founded, thus began their Canadian lineage.
In 1972, Master Lok To returned to the west coast to establish The Buddhist Association of San Francisco. In September 1974, Venerable Master Lok To resigned from his positions in The Buddhist Association of United States and the Da Jue Temple of Enlightenment. He then founded the Young Men's Buddhist Association of America in the Bronx district of New York. He also founded the Sutra Translation Committee of the United States and Canada. Together with devotees who had exemplary ability in the English language, Venerable Master Lok To focused his effort on translating Buddhist texts into English. For over forty years, Venerable Master Lok To had published a lot of English Buddhist texts in the United States and Canada for free distribution. His translation has been widely accepted and welcomed by English-speaking communities, and his work is still delivering merits to truth-seekers today.