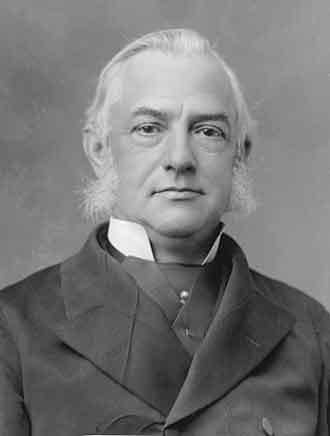 F. Max Müller
The images (above and below) and the biographical material below are from Wikipedia.
Friedrich Max Müller 6 December 1823 – 28 October 1900), generally known as Max Müller, was a German-born philologist and Orientalist, who lived and studied in Britain for most of his life. He was one of the founders of the western academic field of Indian studies and the discipline of comparative religion. Müller wrote both scholarly and popular works on the subject of Indology. The Sacred Books of the East, a 50-volume set of English translations, was prepared under his direction. He also promoted the idea of a Turanian family of languages.
Early life and education
Friedrich Max Müller was born into a cultured family on 6 December 1823 in Dessau, the son of Wilhelm Müller, a lyric poet whose verse Franz Schubert had set to music in his song-cycles Die schöne Müllerin and Winterreise. His mother, Adelheid Müller (née von Basedow), was the eldest daughter of a prime minister of Anhalt-Dessau. Carl Maria von Weber was a godfather.
Müller was named after his mother's elder brother, Friedrich, and after the central character, Max, in Weber's opera Der Freischütz. Later in life, he adopted Max as a part of his surname, believing that the prevalence of Müller as a name made it too common. His name was also recorded as "Maximilian" on several official documents (e.g. university register, marriage certificate),[citation needed] on some of his honours and in some other publications.
Müller entered the gymnasium (grammar school) at Dessau when he was six years old. In 1839, after the death of his grandfather, he was sent to the Nicolai School at Leipzig, where he continued to his studies of music and classics. It was during his time in Leipzig that he frequently met Felix Mendelssohn.
In need of a scholarship to attend Leipzig University, Müller successfully sat his abitur examination at Zerbst. While preparing, he found that the syllabus differed from what he had been taught, necessitating that he rapidly learn mathematics, modern languages and science. He entered Leipzig University in 1841 to study philology, leaving behind his early interest in music and poetry. Müller received his degree in 1843. His final dissertation was on Spinoza's Ethics. He also displayed an aptitude for classical languages, learning Greek, Latin, Arabic, Persian and Sanskrit.
There is much more detail to be found in the Wikipedia article.